Massage Therapy is an ancient healing process that dates back to 3000 BC or maybe earlier. Massage is a sacred system of natural healing and has been practiced down through generations to cure several illnesses.
Most physical and mental problems occur when the mind and the body are out of sync with the environment. Massage Therapy restores the lost balance and aligns the seven chakras creating the perfect harmony. 
Massage Therapy wakes up the entire physical and mental self to a higher level of performance through the release of healthy hormones that reverse the effects of stress.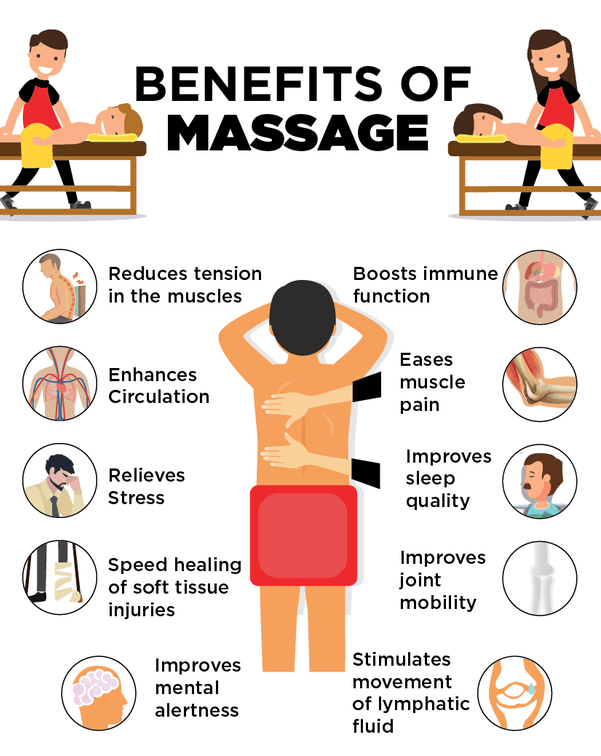 1: MAKE YOUR SKIN YOUNGER BY YEARS
The friction created by a facial massage exfoliates the skin and fresh skin cells emerge making the skin look radiant and young.
2: DON'T BE NERVOUS ABOUT YOUR NERVOUS SYSTEM
A relaxed nervous system enhances hormone production stimulating the production of the feel-good hormones; endorphins. These hormones regulate wake/sleep cycles, menstrual cycles, immune cells, blood sugar, and food intake. 
3: BOOST YOUR MUSCLES:
When the muscles relax it creates a gateway for fresh blood to enter your body thus enriching the body with nutrition, oxygen, and immune cells. The right stretches and releasing of the pressure points create beneficial tension on the muscles, ligaments, and tendons enriching them with the much-needed blood supply. 
4: EMPTY THOSE LYMPHATIC VESSELS
A massage flushes the lymphatic system filtering out the dead cells from the lymph nodes. Refreshing the lymphatic system creates a balance in the fluid and function of the immune system. This also reduces edema in some parts of the body.
5: STRONG BONES ARE THE SECRET TO A HAPPY LIFE
A good massage brings about an improved blood flow to the muscles supplementing the bones with calcium and other minerals that support the strength and function of the skeleton.
6: GET TO THE HEART OF THE MATTER
A massage produces vasodilation which stimulates the venous return creating an increased blood flow and delivery of oxygen to the entire body. A massage not only relaxes the cardiovascular system but also activates the parasympathetic nervous system thus regulating heart rate and blood pressure.
7: EASY TO DIGEST
Stress wreaks havoc on the digestive system bringing about many other ailments. A well-done massage takes care of your digestive system as it contributes to healthy digestion by creating saliva, gastric juices, and insulin, and it fuels peristalsis thus aiding the movement of food through the intestines. A good massage benefits the stomach, gall bladder, pancreas, and intestines. 
8: BREATHE EASY
Stress generates tension in the chest, shoulder, and neck muscles impacting breathing, sometimes making it difficult too. A massage evens out the breathing process as the muscles relax during the massage creating natural and effortless breathing.   
A good massage is a secret to a healthy life, and a beautiful body. You will agree, beauty is not just skin deep, and good health is not just a platter of fruits and vegetables.